Four types of brushes for the AuDeBu series: HULA DANCE FLAP/TSUYA/TETSUJIN/HULA DANC
Our AuDeBu series enables our customers to choose the right polishing brush from a selection of the four types below.
Each has its own unique features and choosing the suitable polishing brush for different materials and forms is crucial for a beautiful, high-quality finish.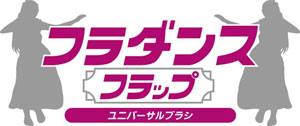 HULA DANCE FLAP (Universal Brush)
With an impression of a Hawaiian hula dance, this brush is suitable for use with galvanized steel plates. Galvanized steel plates are steel coated with zinc and have a chemical membrane on the top surface. This brush removes burrs but not the chemical membrane. As proof, post-burring tests show that reddish rust does not appear when galvanized sheets are sprayed with salt water.
This type of brush works well with and enables round chamfering with little or no damage to the surface of coated steel sheets (such as SECC, SGCC, ZAM, etc.).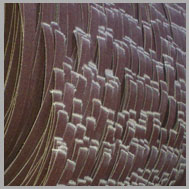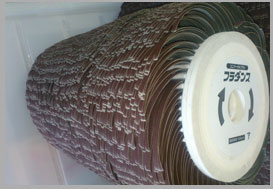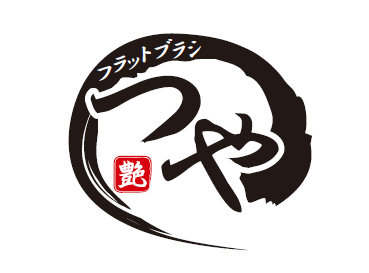 TSUYA (Flat Brush)
Deburring stainless-steel products creates a lustrous surface. We call this brush TSUYA (Luster) due to such an effect.
This is the best brush for round chamfering and works well on coated materials (SECC, SGCC, ZAM, etc.) with no surface scratches resulting in a beautiful, lustrous finish.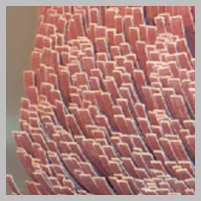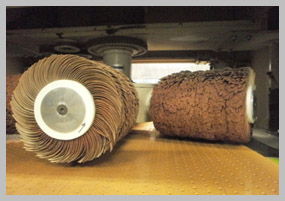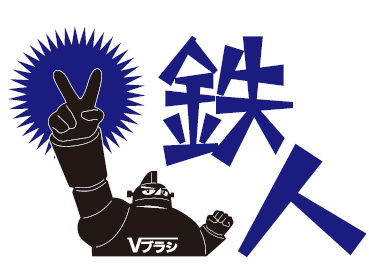 TETSUJIN (V Plan)
The name TETSUJIN (Ironman) comes from the robust image of deburring and grinding.
This brush is versatile and is emphasized for its cutting power. It is most suitable for demanding round chamfering on materials such as medical equipment and food production line equipment that require regular cleaning. The shape of the sanding brush is suitable for small/irregular holes and notches. Shortened brushes also maintain a stable performance.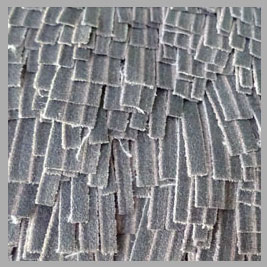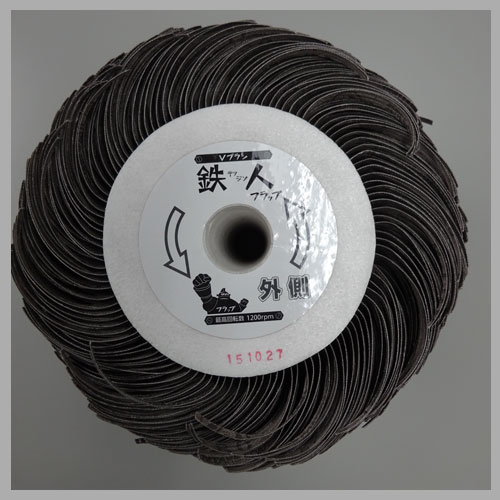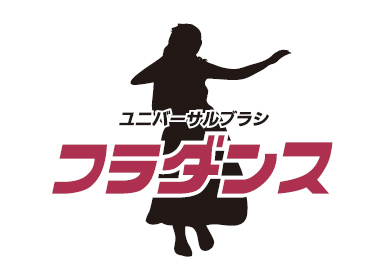 HULA DANCE (Universal Brush)
This is our newest state-of-the-art brush and is designed for soft materials such as aluminum and nonferrous metals.
This universal brush creates beautiful, finished surfaces without leaving a trace of grinding on coated steel (such as SECC, SGCC, ZAM, etc.). The tip of the brush is especially designed to fit in small/irregular holes and notches. It is ideal for detailed works in sheet metal.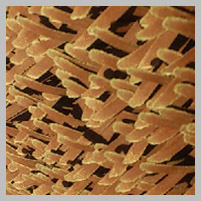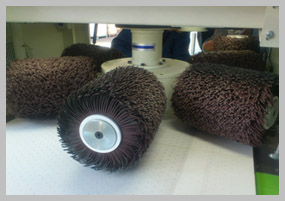 These products are very light in weight to be easily lifted with two fingers. This means they give no strain on the machine and gears.
Authentec believes light-weight brushes are crucial for the highest quality deburring machines.
Comparison of Four Types of Polishing Brushes
Types of Polishing Brushes
SPCC
SECC
SUS
polished finish
SUS
(white vinyl)
Small holes
Irregular holes
Notches
Aluminum
✰✰✰✰✰
✰✰✰✰✰
✰✰✰✰
✰✰✰✰✰
✰✰✰✰✰
✰✰✰✰
✰✰✰✰✰
✰✰✰✰✰
✰✰✰✰✰
✰✰✰✰
✰✰✰✰
✰✰✰✰
✰✰✰✰✰
✰✰✰✰✰
✰✰✰✰✰
X
✰✰✰✰✰
✰✰✰
✰✰✰✰✰
✰✰✰✰✰
✰✰✰✰
✰✰✰✰✰
✰✰✰✰✰
✰✰✰✰
✰✰✰✰
✰✰✰✰
✰✰✰✰
✰✰✰✰✰
Difference in deburring quality by brush configuration
Differences by brush tip configuration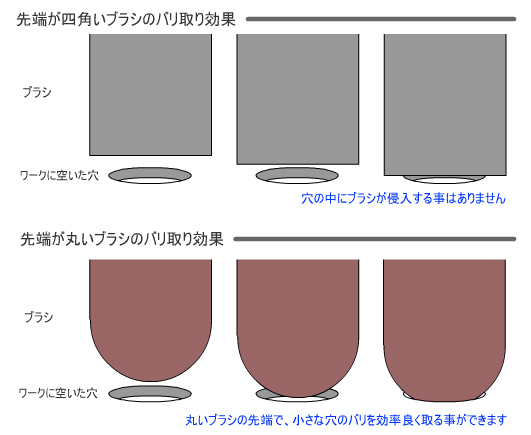 Brushes with round tips reach into small holes. Brushes with square edges only reach into holes with widths wider than brush.
Please consult with us for the best result when choosing the types of brushes.
Differences in twisted and untwisted brushes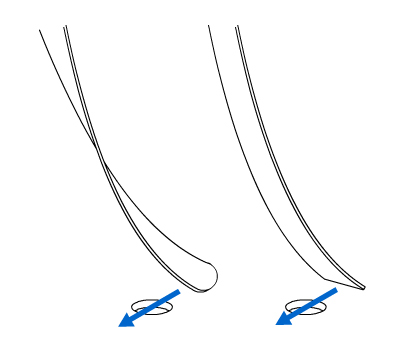 Both twisted (left) and untwisted (right) brushes are often used for deburring. A twisted brush works better than untwisted brushes for work on irregular shapes. As an example, the twisted brush scours the interior of the hole when deburring.